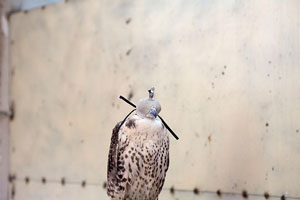 Janice Levy
Ithaca, NY
2013 First Prize
Falcon Market, Riyadh, KSA 2011
Archival pigment print, 24x36"

COMPETITION
View the Winners' Galleries and selected other entries.
This year's Photo Review International Photography Competition will be juried by Jennifer Blessing, Senior Curator of Photography, at the Guggenheim Museum in New York City. The Photo Review Competition enables thousands of people across the country to see the accepted work in our 2014 competition issue and on our website. Also, the prize-winning photographers will be chosen for an exhibition at the photography gallery of The University of the Arts, Philadelphia.
Awards
Prizewinners exhibited at the University of the Arts Photography Gallery, Philadelphia
Accepted entries reproduced in The Photo Review journal and website
Editor's selections exhibited in several Photo Review web galleries
Prizes include:
An Olympus OM-D E-M10 Camera
SilverFast Ai Studio 8, from LaserSoft Imaging
SilverFast HDR Studio, from LaserSoft Imaging
SilverFast SE Plus 8, from LaserSoft Imaging
an Airport Navigator rolling briefcase from ThinkTank Photo
a ToughTech hard drive from CRU
a 24"x50' roll of Museo Silver Rag
a 20"x24" silver gelatin fiber print from Digital Silver Imaging
elegant camera bags from Jill-e
ArtRage 4 software
flash drives from USB Memory Direct
Because their work was seen in The Photo Review, past winners have been given one-person exhibitions, have had their work reproduced in other leading photography magazines, and have sold their work to collectors throughout the country.
An entry fee of $35 for up to three images, and $8 for each additional image, entitles all entrants to a copy of the full-color catalogue. In addition, all entrants may subscribe to The Photo Review for $36, a 20% discount. (Higher rates apply for non-US subscribers.)
This year all entries will be registered through Smarter Entry. Digital images can be uploaded using www.smarterentry.com and prints can be mailed to The Photo Review offices.
All entries must be received by June 30, 2014.
Select the Competition Forms below for details. Acrobat Reader Required:
Contest Rules Contest Subscription Form Print Shipping Instructions

Competition sponsored by:
The Photo Review, 140 East Richardson Avenue, Suite 301, Langhorne, PA 19047-2857.