Pictorialism at the beginning of the 20th century aimed to reveal the hand of the artist in order to secure a place for photography among the more traditional arts. As Modernism and then Post-Modernism gained ascendance Pictorialism fell into disfavor. But in this time of greater diversity, Pictorialism is back, highlighting handwork, selective and soft focus, and atmosphere. There is always room for beauty.

Dawn Roe
Winter Park, FL
www.dawnroe.com
The Tree Alone (Black Ivy)
Archival pigment print, 40"x165"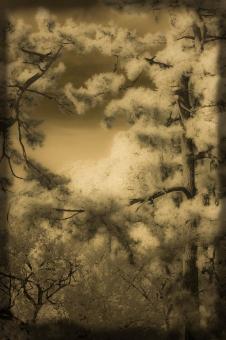 Ekaterina Bykhovskaya
Strasbourg, France
www.bykhovskaya.com
Kyoto Imperial Gardens 39
Archival pigment print, 8"x12"
The Photo Review, 140 East Richardson Avenue, Suite 301, Langhorne, PA 19047-2857.