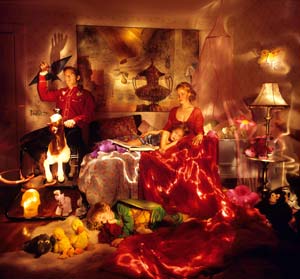 Paul Weiner
Somerville, MA
2007 First Prize
Night Vision
Cibachrome print, 16"x20"

2007 COMPETITION ENTRIES
Every year we receive many wonderful images in our annual competition that don't make it into our printed issue. And every year there seem to be images that relate to each other in a particular way. (For instance, about a decade ago, eight different people from different parts of the country submitted images of mud-covered nudes. What was that about?)
So this year, in addition to exhibiting just the prize winners, we are putting up all the accepted entries plus we decided to put up a special web-only exhibition arranged around several themes that seemed particularly prominent among entries this year: Faces, Menagerie, Places, and Two. While each of the pictures in these web galleries has something to say in its own right, I think the whole is greater than the sum of its parts in that a group of related pictures raises more questions and provokes more answers when seen together. And I must say that there were many excellent images not included here because they did not relate to a larger theme among the images submitted — no fault of their own. Nonetheless, we are pleased to offer these worthy efforts of many fine photographers.
Stephen Perloff
Editor
View Faces
View Menagerie
View Places
View Two

The Photo Review, 140 East Richardson Avenue, Suite 301, Langhorne, PA 19047-2857.